Course details
【Luxury banquet ♪】 3 hour drink unlimited addition "Iwate gold lion cube chef course" 【10 items in total / 10000 yen】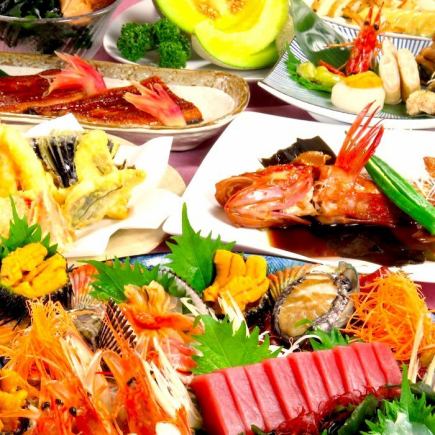 By using a coupon10000 yen
Number of people × 500 yen OFF It is a charge when using coupons.
All-you-can-drink available

【All-you-can-drink】 A course 3 hours all-you-can-drink (2.5 hours on Friday, Saturday and public holidays)
Reservation deadline

Until 23 o'clock the day before the store visit date
Available days for reservation

Monday - Sunday - Public holidays - Holidays
It is a commitment course cooking made with cooked food ingredients carefully selected by themselves.We will use the ingredients of the four seasons luxuriously to add flowers to the banquet.
Course menu
【Ahead of time】 White sesame tofu
【Bowl Object】 鱧 Scratched
【Orientation】 Bonjo, abalone, ungulate, flattened, peony shrimp
【Eight Dimensions】 Ayu, Uneongdong Tofu, Confucius Temple etc.
【Potatoes】 Eel grilled chicken
【Vinegared things】 Akai shella and others
【Fried】 Shrimp, Pork, Confucius
【Strong Relishes】 Boil the kinki
【Incense】 homemade pickled in potatoes
[Sweets] Melons, watermelons, etc.
ー ー ー ー ー ー ー ー ー ー ー ー ー ー ー ー ー ー ー ー ー ー ー ー ー ー ー ー ー ー ー ー ー ー ー ー ー ー ー ー
※ Reservation is until the previous day.Please contact us on the day.
* The contents may change depending on the purchase situation.※ The busy month (Year End Party Season, Bon Festival, Weekend ...) is all-you-can-drink for 2 hours.※ We will only accept courses over 5000 yen on Friday, Sunday and public holidays of the year-end party season.※ The busy season (March, December etc) will be + 500 yen.Please do not hesitate to contact us.ー ー ー ー ー ー ー ー ー ー ー ー ー ー ー ー ー ー ー ー ー ー ー ー ー ー ー ー ー ー ー ー ー ー ー ー ー ー ー ー
All-you-can-drink menu
· Beer · Beer cocktail
· Asahi Super Dry · Panache · Yuzu Beer · Chandigafu · Litivia · Mangoa beer
·Sake
· Cold · 燗
·Fruit wine
· Plum wine · Yuzu sauce · Litchi sake · peach wine · mango sake · yogurt sake
· Wine · Wine cocktail
· Red · white · rose (glass) · keel · white kitty · kitty · operator · wine cooler
· Whiskey · Highball
· Blak · High Ball · Cork High Ball · Ginger High Bow · Yuzu High Bow · Peach High Ball · Litchi High Bow · Mango Hi Ball · Ome Hi Ball
·Cocktail
· Vodka Tonic · Moss Commuter · Screwdriver · Reggae Punch · Peach Orange · Peach Fizz · Gin Tonic · Jim Buck · Orange Blossom · Rich Soda · Lychee Olong · Lychee Orange · Campari · Soda · Spumoni · Campari · Orange · Rum Tonic · Lamb Back · Cuba Libre · Cassis soda etc ...
· Sour · Shochu High
· Lemon Sour · Cork Sour · Lime Sour · Lychee Sauce · Peach Sour · Greiful Sour · Mango Sour · Ginger Sour · Gua Bassa · Male Plum Sour · Oolong High · Green Tea High · Lemon High · Greflu Hai
·Soft drink
· Coca Cola · Gingeraire · Lemon squash · Orange juice · Oolong tea · Green tea
2018/12/16 update